Roofing Contractor
Serving the Greater Dallas Area
As a full-service roofing company, we provide roof repair (including hail damage) and roof replacement for both residential and commercial property owner's. No job is too big or small; so give the experts at Mark Daniel Exteriors, LLC a call at 972-243-4770 or contact us here for all your roofing needs.
Residential Services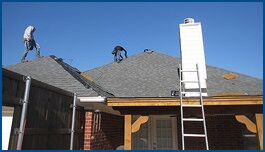 Roof repair (including flat)
Replacement (full or partial)
Leak detection
Inspections
Hail damage
Ventilation
Radiant barrier decking
Our Commercial Roofing Services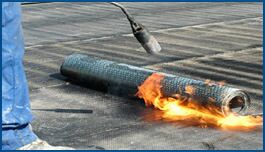 Thermoplastic Polyolefin (TPO)
Metal
Tar and gravel
Flat
Flat roofing thermal imaging leak detection
Slate and tile
Stone coated steel
Commercial roofing needs in the Dallas area vary greatly from building-to-building. Mark Daniel Exteriors, LLC is a professional roofer able to handle any of your commercial roofing needs and is insured to meet even the most demanding requirements.
Causes of Leaks
Most of the leaks that people experience in their homes are the result of improper installations and defective flashing. However, roof leaks can happen anywhere and are especially common near the chimney, step, apron, pipes, or any point at which the roof meets. Even window leaks can be a result of hairline fractures in the shingles being installed improperly or gutters that aren't draining correctly.
Hail Damage
Hail stones differ from ice pellets in that they are layered, irregular, and tend to be clumped together, making them more explosive. The damaging effects of hail can be better understood when you realize that the speed at which hail is falling when it strikes your home or car can depend on the size of the hail stone. A hail stone that is almost a ½" will fall at about 25 mph. Bigger stones fall even faster with a 3" in diameter hail stone falling at a scary 110 mph!
Be sure to get an inspection after any hail storm to make sure your home is safe and secure. We have experience working with most insurance companies, so you can be sure you are in the best hands possible and not some door-to-door salesman.
Time for a New Look?
Brutal Texas weather takes its toll on even the highest quality roofing materials over time. When roofs are old and worn out, they can turn an otherwise beautiful home into an eyesore. Aside from the aesthetic quality of the home, the aging roof can also put you and everyone in your home at risk with leaking and/or mold development. This can eventually lead to significant water damage inside the home if left uncorrected.